Republicans United at Arizona
Chairman: Ren Ramsey
Email: RRamsey@republicansunited.org/
Appointed 2021
COLLEGE REPUBLICANS UNITED AT
ARIZONA STATE UNIVERSITY
Email: asu.collegerepublicansunited@gmail.com
CRU at ASU is the original founder of Republicans United. Our activities consists of weekly meetings during the semester, collaborative journalism, outreach events and invitational speeches by well-known Conservative contributors. We do not discriminate nor push our own views onto members. We provide a diverse line-up of guest speakers with varying opinions, and encourage public discourse. 
CRU at ASU: Meetings take place every Tuesday 6:30pm Location Pending. 
COLLEGE REPUBLICANS UNITED AT
UNIVERSITY OF ARIZONA
Email: UofA@RepublicansUnited.org
UofA CRs has a long reputation as the most conservative chapter out of all of the CRNC clubs in Arizona. In 2021 the chapter rebranded as CRU at UofA and joined the Republicans United network. 

CRU at UofA: Meetings take place every Thursday 6:30pm
1303 E University Blvd, Tucson, AZ 85719
Room: Mesquite Room
Time: 6:30pm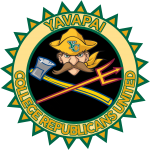 Executive Board
Bylaws
Weekly Email
List of previous events and speakers
COLLEGE REPUBLICANS UNITED AT
Yavapai COUNTY
Email: bmonic82@gmail.com
Established in 2020, Yavapai CRU is a small chapter originally from Yavapai College but also encompases Embry Riddle, Prescott College, and other online students in the region. Physical meetings share space with the Veterans Association at Yavapai College. Relaunching July 2022.