Matthew Northway arrived at the Church of the Nations around 7:20 AM and walked with Mark Grigoriev from the parking lot to the front of the church grounds. They stood with their protest signs and yellow vests on at that location for about half an hour until approached by a gentleman wearing a pro-Lines sticker. This gentleman read our signs and asked who we were with. Mark responded, "Republicans United" while Matthew was beginning to say "College…." The gentleman (Douglas Yelin) finished his sentence and told us we weren't allowed to protest on church grounds. Mark asked him where we could go, and Mr. Yelin mentioned "around the back by the dumpsters." 
Mark and Matthew then left the location and walked towards the rear of the building. They stopped where other anti-Lines protesters were located and spoke with a pro-Ward supporter. Mark and Matt told her what happened, and she went inside to ask for clarification. She returned to us with another unknown individual verifying that we couldn't protest on church grounds.
Mark and Matt moved away towards the opposite side of the church, then was approached by Jonathan Lines himself who said, "You can't be here, see the Sergeant-at-arms. This is a private event." Barbara Medal was walking behind Jonathan Lines and saw him telling us to move and was asking him questions as he was walking into the building. Mark and Matthew then moved off church property after speaking with Alice Lara (Chips 'n Salsa). As we were walking away from the church, Matthew caught a verbal confrontation between Lyle Tuttle and an SC named Alberto Gutier III where Lyle asked why we couldn't protest on the grounds. Alberto got frustrated saying, "I'm resigning from the Party! This is why I'm resigning!" After this exchange, Mark and Matthew protested on the sidewalk opposite the church building until Rick Thomas arrived.
Rick went back onto the property and spoke with several pro-Lines teens carrying signs asking who organized them, their opinions on Jeff Flake, Romney and other RINOs. None of them were confident to talk about why they were there or anything else beyond the pro-lines rhetoric they were told to say. Rick then spoke with another group of Anti-Lines protesters and informed them what took place with Matthew and Mark. This individual encouraged CRU to return back to the property and group up to prevent harassment from Jonathan Line's henchmen.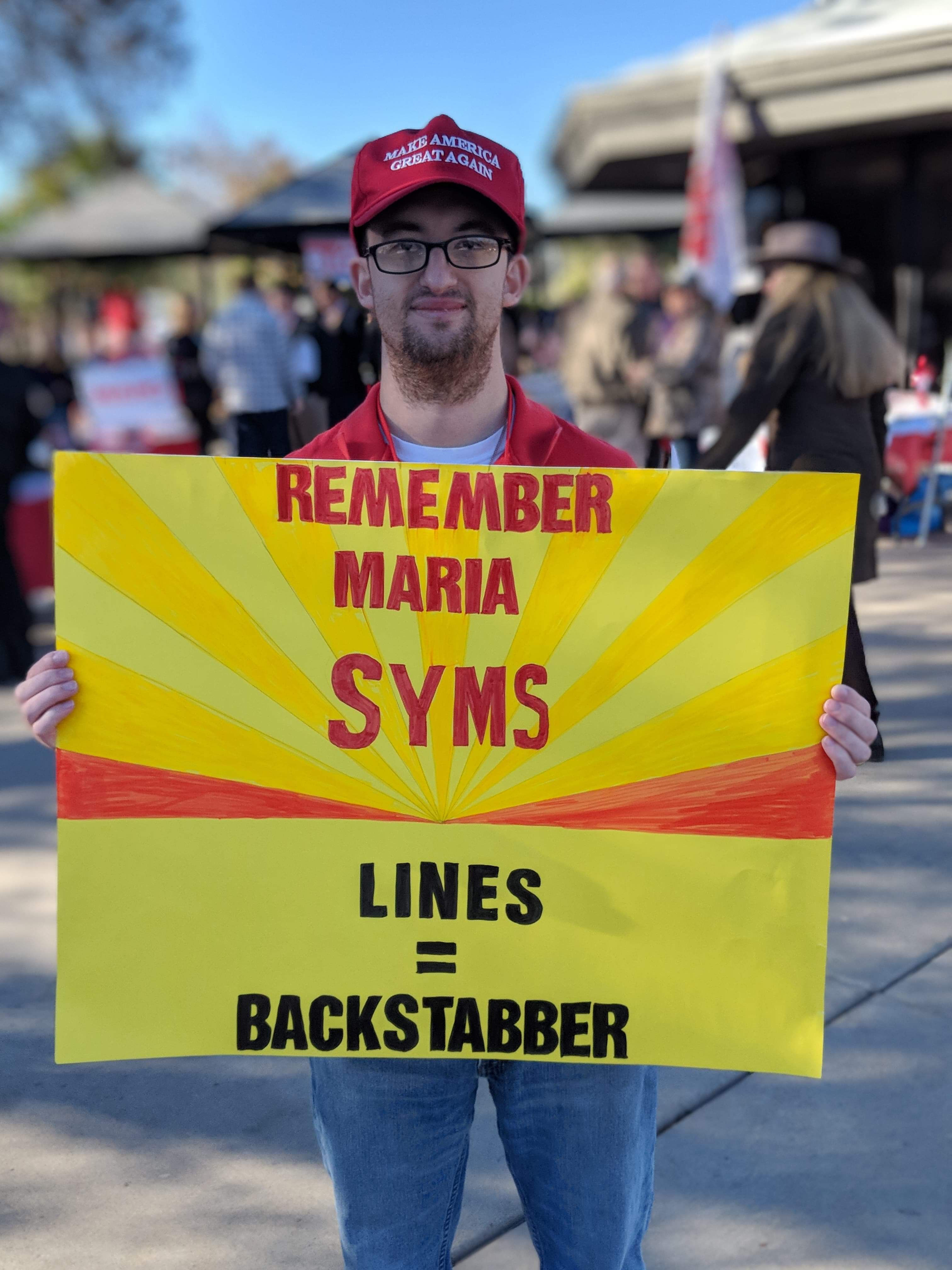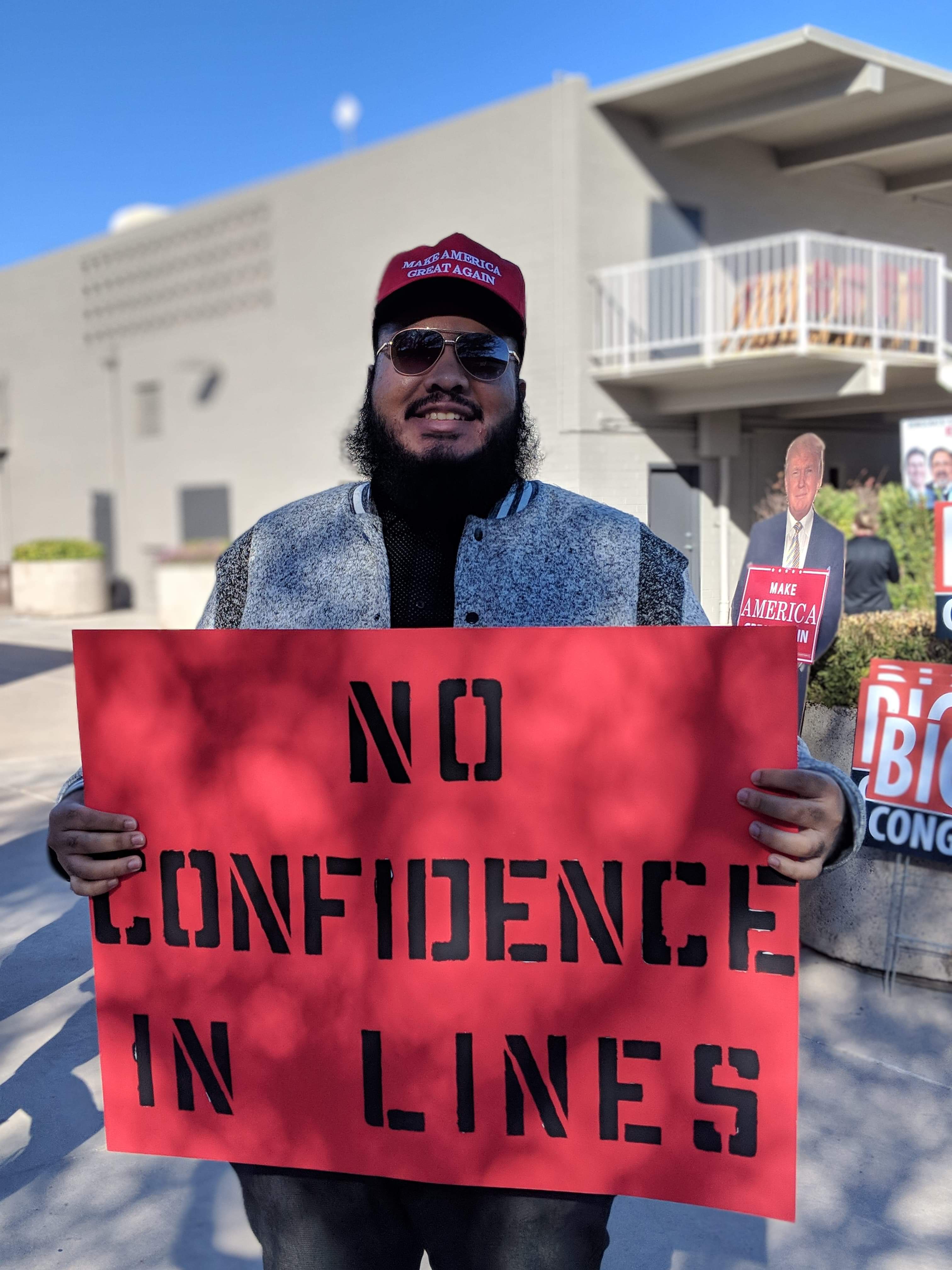 Rick was then approached by what appeared to be one of the organizers for the teens. The individual then berated Rick on his anti-lines views, made insults on Rick's "Faggy" Air Force Boots, Jacket, and choice of clothing. When asked why he hated the AirForce he replied that he use to be an Army Ranger so it was ok. The man was visually unhinged, but what made the situation worse was the Teens who accompanied him who started to echo his insults. The man eventually scurried away. Our side was later reinforced by Joshua Bernard and Kevin Decuyper. The rest of the day went on without further incidents.
After Kelli Ward won the vote. Jonathan Lines walked past our group, full of hatred and vile, saying "It takes alot of balls to yell at me from a distance" Rick quickly shot back, "Have fun in court with Maria Syms." The sad little man got into his car with his family and drove away.